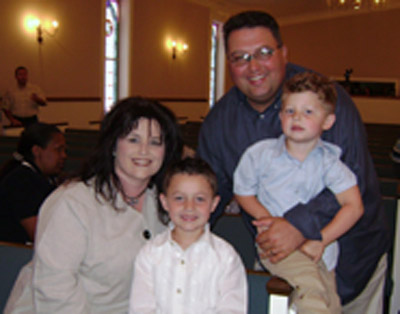 Pastor Shane comes to us by way of First Baptist Church of High Springs, Florida. Born and raised in Orlando, Florida, Shane moved to North Florida in the eleventh grade. After graduating from High School in Lake City, Florida, Shane enlisted in the US Marine Corps and was stationed at Camp Lejeune, North Carolina. While serving our country, Shane met and married Vicki in 1992. Vicki hails from the booming metropolis of Fort White, Florida. After an honorable discharge from the Marines, Shane and Vicki moved back to North Florida. Shane settled into a 15 year restaurant career and Vicki became a school teacher. Joshua Rhett came along in 2001; followed by Caleb Asher in 2004. Shane answered the Lord's call to ministry while serving as a lay leader at First Baptist Church of High Springs, Florida. After serving on staff as director of Pray then Play Sports, Shane was led here in June of 2009 by the moving of the Holy Spirit. Shane now serves as our Associate Pastor to Children, Youth, and Families.
I believe that annointed teaching is the catalyst for transformation in individuals' lives and in the church.

I believe that lost people matter to God, and therefore ought to matter to the church.

I believe that the church should be culturally relevant while remaining doctrinally pure.

I believe that Christ-followers should manifest authenticity and yearn for continuous growth.

I believe that a church should operate as a unified community of servants with men and women stewarding their spiritual gifts.

I believe that loving relationships should permeate every aspect of church life.

I believe that life-change happens best in small groups.

I believe that excellence honors God and inspires people.

I believe that churches should be led by men and women with leadership gifts.

I believe that the pursuit of full devotion to Christ and His cause is normal for every believer.
My core values are modeled directly after the
Ten Core Values of Willow Creek Community Church